The gospel this weekend came from Luke chapter 10, you know, the parable of The Good Samaritan. The "expert in the law" asks what he must do to inherit eternal life.
Jesus asked the expert what was written in the law and the expert said the law stated to love the Lord your God with all your heart, soul, strength and mind. Oh…and one other thing "love your neighbor as yourself."
Luke 10:27
Jesus told him he was correct, "do this and you will live." vs. 28
There are countless lessons to be learned from this parable. Lessons on compassion, generosity and love, just to name a few. But for some reason that is not the lesson I took away this time.
I don't know why, but yesterday verse 29 jumped out at me.
But he wanted to justify himself, so he asked Jesus,
"And who is my neighbor?" Luke 10:29
emphasis mine
It isn't the neighbor question that gets me, it is the first part of that verse. The justification part.
The expert wants eternal life.
He knows what the law says.
He understands the law.
But let's have a bit more clarification. (He is a lawyer, after all!)
Just exactly, Lord, WHO is my neighbor. WHO do I have to love?
Surely not the people that are different from me.
Surely not the people that have less than me.
You are not asking me to love the people that do THOSE things, are you, Lord? And what about those people that don't follow the law, Lord…I have to love them too?
Yes, I think that is exactly what the Lord was telling the expert of the law.
And that is what he telling me too. Our neighbor is everyone. Even those that we really don't WANT to love…Jesus says we have to love them too.
I wonder if I am as loving toward those that are not like me as I should be. I think I am not.
And if this seems like an unfinished blog post, that is because it is. I don't have the answer.
I working through the process of learning to love my neighbor. I don't have 3 bullet points on how to do that.
Or steps to work on. I am just mulling over the fact that I don't need to be trying to JUSTIFY my decisions, I need to LOVE my neighbor.
And my neighbor is everybody.
Faith, hope and love. But the greatest of these is love.
1 Corinthians 13:13
Do you have trouble loving your neighbor?
Or even deciding WHO is your neighbor?
I am joining with Michelle.
Click here
to read more Hear it on Sunday posts.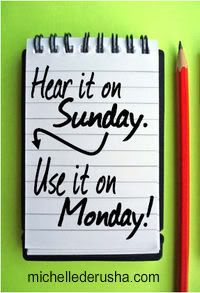 I'm also joining
Laura
for
For inspirational gifts, home décor and jewelry items, please visit http://www.myblessingsunlimited.net/MARYBONNER/ my Blessings Unlimited store.