I might be crazy! I am going SO outside my box today!! I have decided to join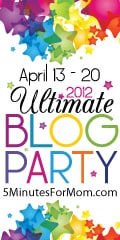 That's right! I am joining a blog party. SO not like me. But it sounds like fun and I am interested in meeting some new Christian bloggers. And there are all kinds of blogs. You can check it out
here
.
A little bit about me…my husband got transferred and we moved to the east coast almost 5 years ago. AFTER living in the same house in the Midwest for almost 25 years. The east coast – what a difference from the Midwest!
I am married to my best friend and we will celebrate our 29th wedding anniversary in a couple of weeks. I love being married to him! I have one, living child who is 24. He lives at home, works and goes to school part-time. I am active in my church and I work part-time at a local college. I enjoy the being outdoors, especially at the beach or in the mountains! You can read about my daughter
here
.
I began blogging more as a spiritual journal…reflections of my daily quiet time. I feel like the Lord might be leading me in a slightly different direction and I am trying to discern exactly where I should go. I am thinking this blog party is part of the journey! *smile*
Please leave me a comment telling me you were here, so I can check your blog too!
I would love to have you follow me or subscribe to my blog. I can also be found on Twitter @TheMaryBonner. Be sure to leave a comment so that I can visit your blog and I'll return the follow.
So, I am jumping in with both feet…Yikes! Let the party begin….Oh, and so you can have a face to go with the blog and name…this is me!
Oh and…
Enter to win a $25 Target gift card by leaving a comment on this post. Following this blog gets you an extra entry, be sure to leave an extra comment. This giveaway will be open through 4/20 and the winner will be chosen by a random number generator. Please make sure that I am able to reply by e-mail to your comment or leave your e-mail in the comment in case you win!