"A new command I give you: Love one another. As I have loved you,
so you must love one another. By this everyone will know that you are my disciples,
if you love one another."
John 13:34-35
Love one another. It sounds so easy. But I find that it isn't nearly as easy as it sounds.
Oh, I find it easy to love the people that act like me. That believe like me. That have the same lifestyle as me. That like the things that I like. Those people…no problem.
But what about those that are different from me? What those that make choices that I wouldn't make? Do I have to love them too? Yes, I do!
Jesus didn't tell the disciples, "Love those that act, look and believe like you do." He said, "Love one another. As I have loved you…" He loves everybody. ALL PEOPLE. Not only those that obey him.
He died for all of us.
This world is full of people NOT. LIKE. ME.
I work with people NOT. LIKE. ME.
But I am called to love all people.
My neighbor who is noisy or has a yard I don't like. My co-worker that makes my life miserable at times or chooses a different lifestyle than me. The person who cuts me off in traffic.
I am also called to love those less fortunate than me. There are many bloggers and people I know that minister to the less fortunate. They travel to Haiti, Guatemala, Honduras and many other place to minister to those with much less than themselves. And most of them come back changed. No longer the person they were when they left home.
God hasn't called me to do go to any of those places. He hasn't called me to do anything really big.
But he has called me to love. All people. And to be honest, I find that hard to do.
I expect the Lord to forgive me of my sins. Can I not pardon my neighbor? The co-worker that makes life difficult. The person that chooses a lifestyle different than mine. The rude store clerk, the person that cuts me off in traffic, the person in the security line at the airport that does travel by air often and doesn't know the rules…the people I meet during the day that are different than me. I am called to love them. All of them.
I find it hard to do…but I am working on it.
Do you find it hard to love those that are different?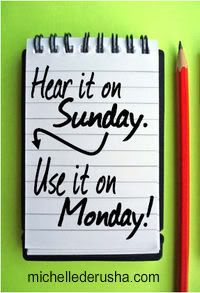 I had the privilege of hearing Michelle speak at
Jumping Tandem the Retreat
last weekend. I had met her personally in 2011 and loved her, but hearing her talk about following her dream, her faith journey and honing her craft of writing was such a privilege. I hope that I can incorporate some of the skills she shared in her writing workshop.
This call to love all people is truly a challenge for me. Just one in a series of things I believe the Lord is calling me to do and trying to teach me. My writing in this space may be sporadic over the next few weeks as I am trying to discover my God-sized dream and learn how to implement it into my life. If he is calling me to write, then I want to do that…but if this is not his call, then I must do that too.
Pray for me, please, as I walk this path.
Hugs & Blessings~