When Moses' hands grew tired, they took a stone and
put it under him and he sat on it.
Aaron and Hur held his hands up
—one on one side, one on the other—
so that his hands remained steady till sunset.
Exodus 17:12
You know one of my favorite parts of this story? It's that Aaron and Hur held up Moses' hands.
Moses is tired and friends and family support him. It took all day, but the Israelites won. I wonder if Moses thought the Lord should have made the battle end a bit sooner?
Sometimes, when I am praying I have a tendency to tell the Lord what I want done, how I want it done and when I would like him to do it.
Somehow, I don't think that is the most effective way to pray…but I do it anyway.
You see, eventually, I remember that God's timetable is not mine. He will answer when and how he sees fit. My job is to trust him…keep my hands in the air if you will, and wait for him to win the battle.
At the book study on Saturday one woman shared that she witnessed one of her prayers being answered within 45 minutes of praying…but I know that doesn't always happen.
Sometimes we pray for days, weeks, months or even years before we see the answer. Then, there are times when we don't see an answer this side of heaven.
Why do children die?
Why do people get cancer?
Why do we have rapes, murders and terrorism is our world?
And the "whys" continue…I could go on and on.
There are times in our lives when it seems there is no answer. When it seems as if God is not listening. When our arms are weary and we want to quit. If he isn't listening, why should I continue praying?
But we can't quit. And he is listening.
We have to find those friends and/or family members that will lift us up, will hold up our arms…that will come along side us, encouraging us and praying with and for us.
For me, it is in those moments when I am being held up that I see God's hand. I realize that he hasn't forgotten me. He really IS listening. It is easy to think that we are just one small voice in a world wide sea of voices, but He hears us…each and every one of us.
We just have to keep our arms up…
Who is holding you up your arms today?
Feel free to leave your prayer request in the comments.
I pledge to pray for you today.
Joining with Michelle for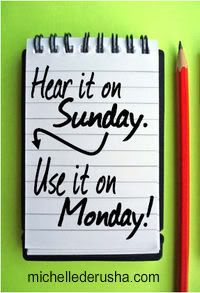 This post may contain affiliate links. You do not pay more for the item if you purchase through my link, but I will get a small commission.